Experiences
« GO BACK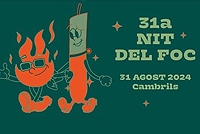 Nit del Foc Cambrils 2018
Date: 01.09.2018
Location: Old Quarter Cambrils.
NIT DEL FOC 2018.
01/09/2018... Light, fire, fun...
This party organized by the cultural association of Cambrils TOTA L'ENDENGA, is held every year during the local festival of the Virgen del Camino.
In the afternoon, where does a child run-fire group participates hell and a local child and invited young audiences generally want to take part of this fire show. Finally the child correfuegos hot chocolate is for children who have participated.
At night begins a spectacular run-fire that, following a preset route, through the streets of the old town of Cambrils. In this run-fire hell participating groups and local fire beasts as well as the guests.
The festival ends with a fantastic fireworks display and dancing all groups and beasts SETGE Square and then begins a concert until dawn.
Do not miss it!
Light, fire, fun and entertainment in a magical night.
PROGRAMMING NIT DEL FOC
FACEBOOK NIT DEL FOC "TOTA L'ENDENGA"
Location
Show larger map
« GO BACK
Newsletter
Sign up to receive the best offers, experiences and events of Cambrils
Services offers
SEE ALL
Weather