Services offers
« GO BACK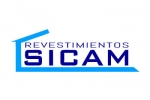 Revestimientos SICAM
With more than 14 years of experience in the execution of works, we are a company highly specialized in integral reforms of the home and in all types of new work, both public and private.
- Reforms of private homes.
- Integral or partial reforms.
- Bathrooms, kitchens, tiling, painting in general ...
- Revestiminetos and repair of all types of facades.
- Restoration of buildings.
- Specialists in monolayer placement.
- Painting in general
- Partition walls, plasterboard, monolayer...
- New public or private works. Integral management.
- Maintenance of communities.
- Construction of boxes for elevators.

CONTACT INFORMATION:
Budget without commitment.
CAMBRILS - REUS - TARRAGONA
T. 690 22 56 35
+INFO...
www.revestimientos-sicam.com
catchall@revestimientos-sicam.com
« GO BACK
Newsletter
Sign up to receive the best offers, experiences and events of Cambrils
Experiences
SEE ALL