Experiences
« GO BACK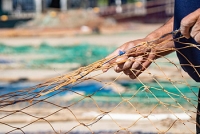 Weekends with history
Date: 11.04.2021 al 11.04.2022
Location: Cambrils
The History Museum of Cambrils recovers the "Weekends with history". Reservations are reopened for guided tours of four heritage sites.

The program of guided visits to different heritage sites in Cambrils "Weekends with history" will resume from this Sunday, April 11, although with limited capacity. The History Museum of Cambrils launched this program last summer, with outstanding novelties such as guided tours in Catalan and Spanish in the fishing port and the Roman Villa of la Llosa. Despite being a proposal adapted to the security regulations against Covidien-19 then in force, the activities had to be suspended at the end of October as a result of the worsening of the health situation.

As of today, the possibility of making reservations has been reopened to the email museu@cambrils.cat or to the telephone 977 794 528. In addition, to improve the dissemination of the programmed activities, a bilingual brochure has been prepared and also an image graphic to publish on social networks, all inspired by the institutional color of the Museum. In this dissemination there will also be the collaboration of the Cambrils Tourist Board.

The "Weekends with history" will allow you to know in a commented way the mill room of the Molino de las Tres Eres recently restored or the Roman Villa of la Llosa. In addition, you can also visit the Civil War Shelter on Cruces street, within the route marked by the Old Quarter that received the support years ago from the Democratic Memorial of the Generalitat of Catalonia.

Also within the heritage routes through the urban fabric, the "Fishing and Tradition in Cambrils" route, runs through the streets of the Beach and the Port, leaving at the Torre del Puerto and ending at the Poniente Pier. The route uses as support the new multilingual panels on fishing that Puertos de installed last year, and that had the collaboration of the Culture area of ​​the Cambrils City Council and the Cambrils Fishermen's Association.

SEE THE ROUTES...
Location
Show larger map
« GO BACK
Newsletter
Sign up to receive the best offers, experiences and events of Cambrils
Services offers
SEE ALL
Weather