Services offers
« GO BACK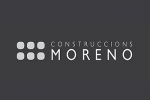 Construccions Moreno
CONSTRUCCIONS MORENO. More than 50 years dedicated to construction.
Second generation of specialists in partial and / or comprehensive reforms of all types of housing.
New work, own promotions and specialists in private promotions for individuals.

CONTACT DETAILS:
Av. Lluís Companys, 7
43850-CAMBRILS
T. 977 361 502
MORE INFO...
« GO BACK
Newsletter
Sign up to receive the best offers, experiences and events of Cambrils
Experiences

Chemists

See map with all chemists in Cambrils 2021.


Carretera i manta

The CARRETERA I MANTA program contains several activities for youngsters.


Weekends with history

Reservations are reopened for guided tours of four heritage sites.
SEE ALL