Gastronomic offers
« GO BACK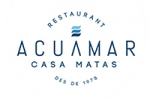 Acuamar
The restaurant is located in front Acuamar the fishing port of Cambrils.
In the restaurant you can enjoy a Acuamar excel.lente seafood seafood. Fish appetizers, seafood and baked fish. We also produced much of the desserts and we have a wide selection of wines and spirits with approximately 250 references.

CONTACT INFO:
C/Consolat de Mar, 66
43850-CAMBRILS
T. 977 36 00 59
MORE INFO RESTAURANT
www.acuamar.com
« GO BACK
Newsletter
Sign up to receive the best offers, experiences and events of Cambrils
Experiences

Chemists

See map with all chemists in Cambrils 2021.


Carretera i manta

The CARRETERA I MANTA program contains several activities for youngsters.


Weekends with history

Reservations are reopened for guided tours of four heritage sites.
SEE ALL