Experiences
« GO BACK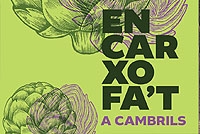 Encarxofa't a Cambrils
Date: 08.03.2019 al 24.03.2019
Location: Cambrils
From 8 to 24 March 2019, ENCARXOFA'T IN CAMBRILS. An outstanding example where our partner restaurants offer dining applications protruding artichoke protagonist.
The artichoke is one of the vegetables most appreciated in the Mediterranean, is a product which marries perfectly with many seafood specialties and can be eaten raw, fried, boiled, baked or heat.

POPULAR ACTIVITY
Sunday March 17, starting at 11 am, in the Plaza del Pósito, Tasting of paellas with artichoke.
Tasting price: € 4.
While supplies last.

WE RECOMMEND... our partner restaurants:
- ACUAMAR | (View menu)
- CAN BOSCH | (View menu)
- CASA MACARRILLA | (View menu)
- GAMI | (View menu)
- RINCÓN DE DIEGO | (View menu)
Location
Show larger map
« GO BACK
Newsletter
Sign up to receive the best offers, experiences and events of Cambrils
Services offers
SEE ALL
Weather