Experiences
« GO BACK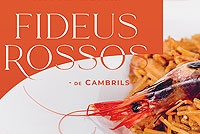 Gastronomic days of noodles "rossos"
Date: 03.05.2019 al 19.05.2019
Location: Cambrils
GASTRONOMIC DAYS OF NOODLES "ROSSOS" IN CAMBRILS.
In Cambrils from 3 to 19 May 2019, in our partner restaurants:
Cambrils invited to enjoy one of their own dishes inherited from the parents and grandparents cuisine, recipes passed down from generation to generation: The noodles "Rossos" Cambrils.
See the menu that were prepared each of our restaurants associated with this promotion. Different recipes for a common purpose: to make you enjoy this innovative combination noodles cuisine "Rossos" in a unique environment ... Cambrils.
WE RECOMMEND ... a different creations our partner restaurants:
- ACUAMAR >> (View menu)
- CAN BOSCH >> (View menu)
- CASA MACARRILLA >> (View menu)
- GAMI >> (View menu)
- RINCÓN DE DIEGO >> (View menu)
Location
Show larger map
« GO BACK
Newsletter
Sign up to receive the best offers, experiences and events of Cambrils
Services offers
SEE ALL
Weather