Experiences
« GO BACK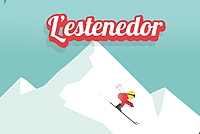 L'Estenedor
Date: 12.09.2023 al 31.12.2023
Location: Ateneo junvenil
The "Estenedor" activities are back, aimed at young people aged 12 to 17
and activities for young people aged +18.
Do you want to know what activities we will do this autumn-winter?
Consult the "Estenedor" 2023 program.
REGISTRATIONS
From September 12 at 11am.
HOW?
ONLINE through this page
PRESENTIAL IN THE ATENEO.
ATTENTION HOURS
From Monday to Friday from 11 a.m. to 2 p.m. and Tuesdays and Thursdays from 4 to 7 p.m.
IMPORTANT: Registrations are nominal.
Location
Show larger map
« GO BACK
Newsletter
Sign up to receive the best offers, experiences and events of Cambrils
Services offers
SEE ALL
Weather