Experiences
« GO BACK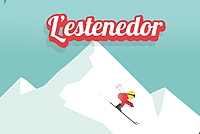 L'Estenedor
Date: 01.07.2021 al 31.08.2021
Location: Ateneo junvenil
The Department of Youth of the City of Cambrils has presented a new edition of the program of summer activities for young people L'Estenedor, which offers 492 places in 31 activities in fields as diverse as photography, design, painting and drawing, cooking, hairdressing, clothing, radio, languages ​​or water sports.
The Councilor for Youth, Natàlia Pleguezuelos, explained that this year the theme will be to achieve a more sustainable and ecological world and that is why different actions related to sustainability will be carried out in the different workshops scheduled.
The program for this 2021 includes news such as a radio workshop in collaboration with Ràdio Cambrils, a rowing course with the Cambrils Rowing Club, urban dances, a photography workshop with Elena Aguirre (who has recently exhibited at the Ateneu), a manga drawing workshop with a young man interviewed in #laveujove, a theatrical creation course with the actor Adrià Cubells, and a workshop to learn how to make comfortable hairstyles for the summer.
In addition, some classic activities have also been scheduled that work and are therefore repeated every year such as English language training, robotics, theater and painting arts, emotional health, sports and sports. more playful activities.
Registrations will start on June 1 and can be done through the website www.joventutcambrils.cat or in person at the Youth Athenaeum from 10 am to 2 pm (by appointment at joventut@cambrils.org or by whatsapp).
All activities have an affordable public price and are subsidized in different percentages depending on the cost of the activity and the scope. However, there are a number of activities that can be subsidized by an additional 25 or 50% with social pricing. All people who meet the social pricing requirements and have requested it, will be charged a lower price for the activities indicated.
L'Endenedor is a program started by the Youth Department of Cambrils City Council in 2011 and is part of the Cambrils Municipal Youth Plan 2017-2020, extended for 2021.
Location
Show larger map
« GO BACK
Newsletter
Sign up to receive the best offers, experiences and events of Cambrils
Services offers
SEE ALL
Weather