Experiences
« GO BACK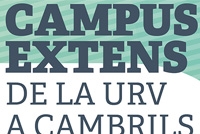 The "Campus Extens" of the URV
Date: 14.04.2021 al 26.06.2021
Location: Cambrils
The program for the last quarter of the course includes nine activities from fields such as literature, economics, history, gardening, ethnology or art.
The "Campus Extens" of the Rovira i Virgili University (URV) in Cambrils will be face-to-face again this last quarter of the course, which began last week. After a few complicated months where online events have prevailed due to the health situation and the weather, this is the first program of the last year where presence is clearly recovered, always but within the framework of the marked health restrictions.
The spring program of this atypical 2020-2021 academic year includes nine activities from April 14 to June 26. The activities, coordinated by the History Museum of Cambrils, continue this week with one of the highlights of the program, which will be the presentation of the video Fishing in Cambrils, produced by the Fishermen's Association of Cambrils, next Saturday 24th of April at the Rambla del Arte Cinema.
The subjects to be dealt with in these last months of the course of the "Campus Extens" of the URV in Cambrils are very diverse, from literature, economics, and history, to gardening, ethnology or art. With the collaboration of the Tarragona Provincial Council and the Culture area of ​​the Cambrils City Council, the process of holding events in different spaces will continue, some of them outdoors, taking advantage of the good weather, and giving special prominence to the family audience.
Location
Show larger map
« GO BACK
Newsletter
Sign up to receive the best offers, experiences and events of Cambrils
Services offers
SEE ALL
Weather