Experiences
« GO BACK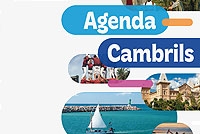 Cambrileja l'estiu 2020
Date: 02.07.2020 al 29.08.2020
With the aim of creating a cultural and festive offer that is one more attraction for Cambrils this summer 2020, the Department of Culture and Festivities of the Cambrils City Council and the Municipal Tourist Board have presented "Cambrileja l'estiu", a varied program during July and August that is adapted to the special circumstances derived from the Covid-19.
The cultural and recreational activities have been programmed in a street format to bring the shows closer to Cambrilenses and to the citizens who visit or spend their summer in Cambrils.
The musical and performing arts shows will be itinerant and will follow various routes through the streets of Cambrils, with the aim of avoiding concentrations of people, who can maintain safe distances and at the same time diversify spaces.
SEE THE ACTIVITIES. SUMMER 2020.
Location
Show larger map
« GO BACK
Newsletter
Sign up to receive the best offers, experiences and events of Cambrils
Services offers
SEE ALL
Weather