Experiences
« GO BACK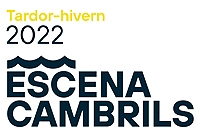 Escena Cambrils
Date: 15.10.2022 al 09.12.2022
Location: Teatre del Casal
ESCENA CAMBRILS
Autumn-Winter 2022
From October 15 to September 9.
The Escena Cambrils program arises from the desire to expand the stage activity and open the doors of the theater and other stage events to the citizens of Cambrils. First, consolidating a regular program in a specific period of the year, initially in the fall. Later, with the commitment to grow, to generate a dynamic of production, to increase the weight of Cambrils as a city that produces and diffuses cultural activity and, in a medium-term period, to position it as a reference for small-format productions, becoming the launching point of a circuit in which other localities of the counties of Tarragona participate.
From October 16 to November 26, you can see four functions with a prominent presence of professional companies from the Camp de Tarragona or with the presence of actors from our regions.
SEE ALL THE PROGRAMMING
PURCHASE OF TICKETS: www.codetickets.com
MORE INFORMATION: www.escenacambrils.cat
Location
Show larger map
« GO BACK
Newsletter
Sign up to receive the best offers, experiences and events of Cambrils
Services offers
SEE ALL
Weather