Experiences
« GO BACK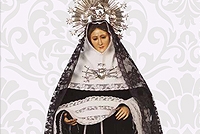 Passion Week
Date: 05.04.2021 al 12.04.2021
Location: Cambrils
PASSION WEEK. CAMBRILS 2021.
The pandemic forces to cancel the processions and via crucis of the Easter of Cambrils for the second consecutive year.
The Congregació Puríssima Sang, the Associació Antics Alumnes La Salle and the Associació dels Dolors have unanimously decided to suspend all the street events they organized, following the public health measures to contain the Covid-19 outbreak.
The most important traditional activities, which last year also had to be canceled, are the transfer in procession of the image of Jesus of Nazareth from the parish of Sant Pere to the parish of Santa Maria, the solemn processional viacrucis for the streets of the old town presided over by the image of the Holy Christ of the Agony, the parade and guard of honor of the Armed of the Congregació de la Puríssima Sang, the procession of the Holy Burial on Good Friday night and the transfer of the image of Jesus the "Nazarene" to the parish of Santa Maria.
Location
Show larger map
« GO BACK
Newsletter
Sign up to receive the best offers, experiences and events of Cambrils
Services offers
SEE ALL
Weather