Residential offers
« GO BACK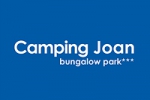 Camping Joan Bungalow Park
Camping Joan is located by the seaside and offers a quiet and comfortable environment, ideal for families.
The campsite is located in front of the beach and has direct access to Paseo Marítimo, just 2 km south of the center of Cambrils - Costa Dorada - Tarragona and 10 minutes away from PortAventura themepark.

CONTACT:
Urbanización La Dorada
Paseo Marítimo, 88
43850-CAMBRILS
T. 977 364 604
F. 977 794 214
« GO BACK
Newsletter
Sign up to receive the best offers, experiences and events of Cambrils
Experiences

Chemists

See map with all chemists in Cambrils 2019.


Carretera i manta

The CARRETERA I MANTA program contains several activities for youngsters.


Guided Tours

Weekly schedule of Tours by Cambrils.
SEE ALL